Hard Stone Watch Dials Make a Comeback
By NAZANIN LANKARANI – MARCH 23, 2017 (link to the original article)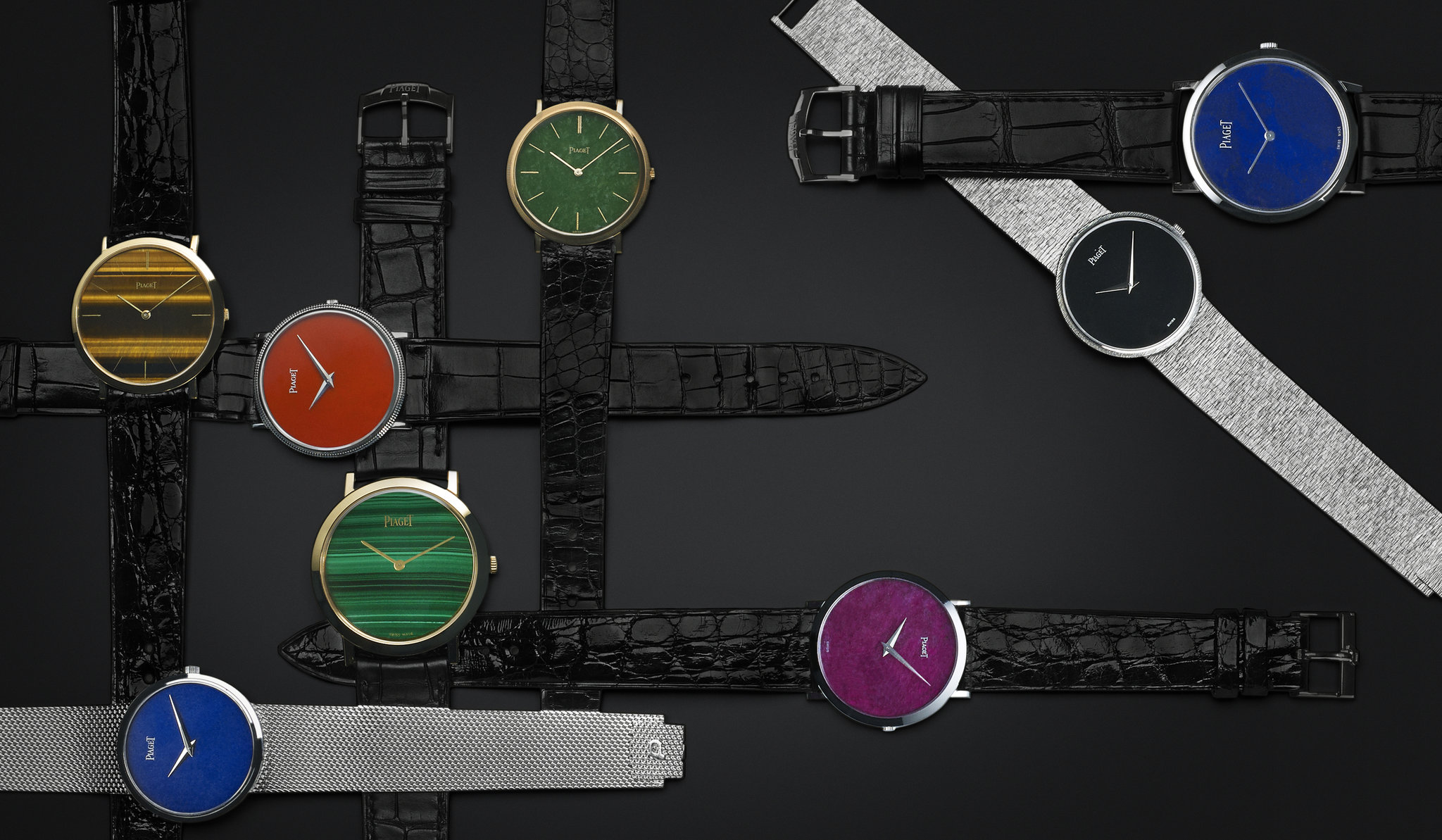 In fashion, the insouciance of the '60s and '70s found expression in bell-bottom trousers and flowing caftans.
In watchmaking, the same bohemian style was reflected in colorful hard stones that brought a splash of color to watch dials. And now that same style is finding favor among watchmakers today.
Piaget in the late 1960s was among the first to produce dials decorated with opaque semiprecious stones, fitting thinly sliced turquoise, lapis lazuli, malachite and opal on top of its watch movements and under the sapphire glass.
"In the '60s, Valentin Piaget, the founder's grandson, would send his designers to couture shows for inspiration," said Alain Borgeaud, Piaget's director of heritage. "There was a real connection between fashion and watchmaking then. Piaget wanted to be in sync with fashion and with the creative circles of the time."'
An important technical innovation introduced in 1957 — the ultrathin 9P movement, which was just 2 millimeters (.08 of an inch) thick — made it possible for Piaget to explore new decorative options on its dials. "Hard stone dials were something new that no one had done before," Mr. Borgeaud said. "We did hard stone dials for 20 years, until tastes changed in the 1980s."
During those two decades, Piaget's designers put watches with hard stone dials on simple straps or bracelets with intricate links, on outrageously ornate manchettes or cuffs, on gem-set or polished bezels, or as jeweled pendants.
"We have magazine clippings from the late 1970s that show Palm Beach ladies in evening gowns at a society function, and every one of them is wearing a Piaget watch with a hard stone dial," Mr. Borgeaud said. "These watches were a must back then."
When property from the estate of Jacqueline Kennedy Onassis went on sale at Sotheby's in 1996, Piaget acquired her oval jade-dial watch set with diamonds and green tourmalines on a mesh bracelet. It is now in the company museum in Geneva.
In recent years, just as fashion brands have repeatedly revisited those decades, interest in hard stone dials has risen, their popularity reflected in higher auction prices and the number of brands bringing hard stones into their decorative repertory.
"There is a very strong interest in vintage hard stone watches on the market," said Sabine Kegel, senior specialist in Christie's watch department.
"Like with fashion, we are seeing a return to the epoch of the hippies, a very artistic period in watch design," Ms. Kegel said. "Collectors today appreciate the technique and the decorative aspects of semiprecious dials because they are so different."
Most in demand are vintage pendant watches and the cuff watches that Piaget made in limited numbers. An unusual Piaget bracelet watch set with tiger's-eye plates from 1970 sold last November at a Christie's auction in Geneva for 57,500 Swiss francs, or $58,150, over twice its high estimate of 25,000 francs.
"Some years ago, Art Nouveau or Art Deco were the rage, and no one was interested in 1970s styles," said George Somlo, a London-based specialist in antique timepieces. "My wife always loved stone-dial watches. We thought they were wonderful creations and undervalued on the market. For years, we were practically the only ones to buy them."
Piaget resumed making hard-stone watches in the early 2000s, using a larger selection of stones. In 2015, a Piaget cuff bracelet watch accented with opal and onyx, inspired by a vintage model, was shortlisted for the top jewelry prize at the Grand Prix d'Horlogerie de Genève.
"When Piaget decided to reproduce the hard stone watches, suddenly there was competition on the market," Mr. Somlo said. "Prices were doubling every six months, and we found ourselves frequently bidding in auction against Piaget buying for its museum."
This year, to celebrate the 60th anniversary of the Altiplano, the ultrathin model most often associated with hard stone dials, Piaget has brought back two limited-edition models, one with a turquoise dial set with diamonds ($32,000), and another with a white opal dial with iridescent facets ($48,000).
Among other brands, Cartier this year introduced its Rotonde de Cartier Mysterious Hour, in which for the first time a technique of hard stone marquetry was applied to set four different colored stones — lapis lazuli, agate, cacholong (a variety of opal) and obsidian — into a geometric pattern on the dial.
This year the jewelry designer Suzanne Syz, based in Geneva, presented her first line of watches, Her Ben, in titanium, rose gold or white gold. The timepieces featured two dials — an outer decorative one and an inner functional one — both in a marquetry of white agate and black onyx.
For all their beauty, hard stones are extremely difficult to handle, even with current technology and skilled craftsmanship, because the stones are fragile and must be cut thinly.
"Hard stone dials are so fragile that even polishing them without cracking the stone is difficult," Mr. Somlo said. "Drastic temperature changes can also be risky. Going from Russia to the Middle East, for instance, can have on them the effect of pouring boiling water onto glass."
Richard Mille, a brand best known for its high-performance watches, experimented with hard stones to decorate its RM 018 in 2009, when it produced a timepiece in collaboration with Boucheron to commemorate the jewelry house's 150th anniversary.
"I thought it would be interesting to use hard stones as an alternative to a traditional jeweled setting," Mr. Mille said. "The project turned out to be very challenging."
"We had a failure rate of over 90 percent in production because the stones kept breaking," he said. "We were two years late in launching the line and in the end, only produced 30 pieces."
François-Paul Journe, known for his complicated classic watches, embarked two years ago on a project to produce a watch decorated with hard stones for a friend, the Swiss collector Stéphane Barbier-Mueller. Taking his inspiration from the Florentine tradition of inlaid stones, called pietra dura, Mr. Journe used onyx and four shades of jasper — white, black, green and red — that he set on both the dial and the watch case using a cloisonné technique similar to that used for enamels.
"I had told myself that I would never touch hard stones," Mr. Journe said. "The work was extremely complicated, especially when it came to following the curve of the case."
Two years later, of the 10-piece edition Mr. Journe was planning to produce, only two have been completed.
"It was challenging but the result is an exceptionally beautiful watch," Mr. Journe said. "It's really the beauty of what nature created."
A version of this article appears in print on March 24, 2017, in The International New York Times.