By breaking the codes and creating exclusive jewels Suzanne Syz can only make one smile.
It was impossible to miss the Suzanne Syz stand at Masterpiece, an elegant and modern bonbonnière filled with exquisite one-off treats. In addition to being a stewardess for excellent craftsmanship and uniqueness, Suzanne Syz is a master of instilling playfulness in sumptuous designs. While most high-end houses treat luxury literally as a serious affair, Suzanne Syz has no qualms breaking the codes and creating exclusive jewels that do make one smile. The kind of organic jewelry a modern Jackie O would covet.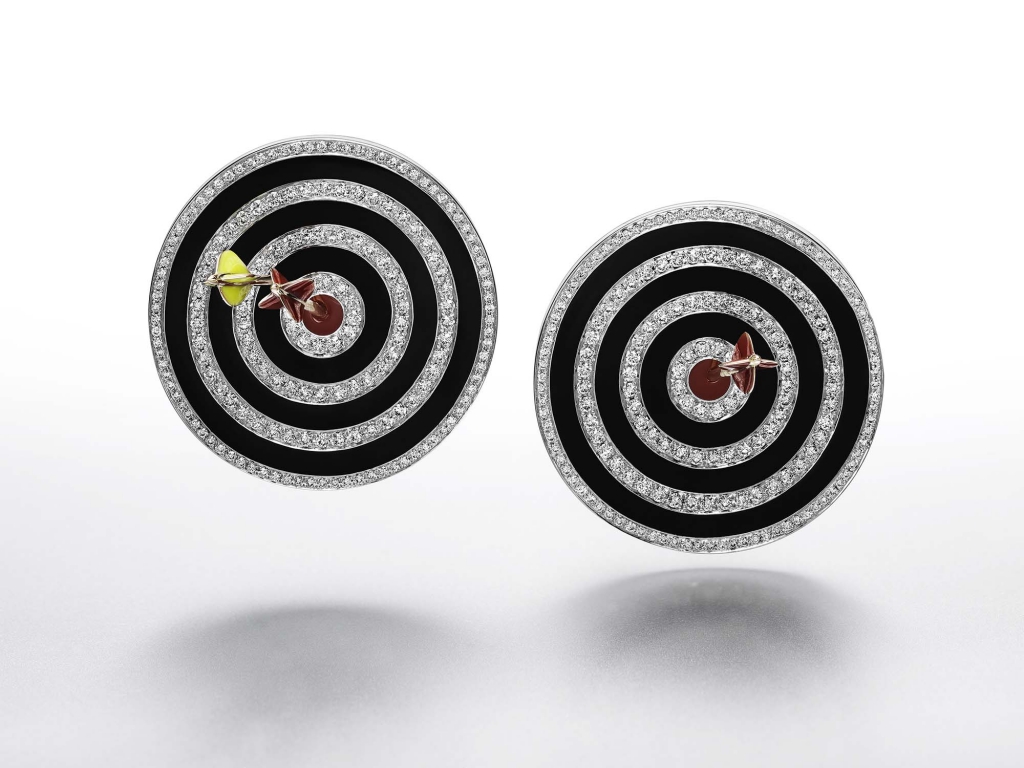 The 'Hit the Bullseye' earrings were a prime example as much in the title as in the design: a delightful game of darts that will surely pierce one's heart. 'I come to the Masterpiece Fair to make my clients happy and surprise them with some new designs, always bringing at least 5 to10 new pieces that have not been seen anywhere else before', she shares. 'I trust Masterpiece (and this is why I have come here every year for the last three years) to select the very best galleries and to offer their visitors an eclectic selection of Art pieces. Besides I work as an artist with my design and as an artisan with the quality of execution of the pieces. Art jewels, antiques and art belong to the same family and therefore should be shown together.' We should be grateful that Suzanne Syz champions the concept of 'honest' luxury, never repeating designs (or at least offering them in different color ways for the permanent collections), unearthing rare components, guaranteeing the best expertise from illustrious Swiss ateliers and above all continuously experimenting.
'I don't see much exclusive jewelry, as for me exclusive means unique and one-of-a-kind, and most brands repeat their pieces. I create to make people happy and to show them how talented the artisans are whom I work with. A piece of jewelry selling for $10,000 or $1,000,000 should be one-of-a-kind and executed in the very best way. This is what I do and my clients share that vision of true luxury,' she observes. The incredible bracelet in Titanium set with big slices of diamonds unveiled at this year's Masterpiece is a case in point: 'As with many of my pieces, and with this one in particular, the Swiss savoir-faire is apparent at a glance. Titanium is very hard to work with, especially to set the stones. Those big diamond slices are very rare and each piece has a different shape with irregularly cut sides. The combination of the delicacy of the setting with such a tough material is just amazing', Suzanne explains.
So many pieces were desirable, in particular the gorgeous one strand 'That's Amore' necklace of large lime green turquoise beads punctuated by one single cut-out sphere set with diamonds or the 'Lady Hamilton' earrings whose mesmerizing fragility is only deceptive. On one hand the ensemble made of the swirling strands of pearled diamonds that shield two Ceylon sapphires exudes delicacy, however on the other hand, the titanium and white gold skeleton assures maximum strength. Like in any other Suzanne Syz creations, it is always a feat of 'engineering marrying artistry'.
By Olivier Dupon author of The New Artisans (2011), The New Jewelers (2012), The New Pâtissiers (2013), Floral Contemporary (2014) and Encore! The New Artisans (2015), all published by Thames & Hudson. His new book on luxury jewelry will be published in 2016.
This article originally appeard in The Eye of Jewelry