The Jewellery Editor
July 2, 2015
By Ase Anderson
Contemporary pearl jewellery that taps into the rebel within us by teaming a gem so rooted in tradition with a design aesthetic that is anything but.
No other gem has seen such a transformation in recent years as the humble pearl, which has been reinvented for a fashionable generation that want their pearl jewellery to look chic with a cool twist.
Contemporary pearls are anything but prim and proper. No longer are they neatly lined up in classic pearl necklaces, but rather incorporated into bold and modern designer jewellery pieces.
From the minimalist aesthetic of the Flow pearl rings from Melanie Georgacopoulos to the dark and opulent Holly Dyment pearl ring, this contemporary pearl jewellery demonstrate the incredible versatility of the gem.
The idea that pearls have to be perfectly round and gleaming white has also been thrown out of the window as jewellery designers hunt out a less homogenised breed of pearl. Coloured pearls and irregular-shaped baroque pearls are increasingly used by jewellers who want to create unique pieces that make a strong style statement.
Featuring pastel-coloured baroque pearls perfectly accentuated with pink and green tourmalines, it is no surprise that Paula Crevoshay's Venus bracelet won the Best Use of Color 2015 Spectrum Award.
The new-found excitement over pearls is not just limited to contemporary jewellers; the old established jewellery houses are getting in on the act too. Just look at these exuberant jewels from the Cartier Paris Nouvelle Vague collection with cultured freshwater pearls tumbling down a pendant necklace and climbing up the sides of a pearl ring.
Pearls can also be used with great effect to emphasise the brightness and lustre of coloured gemstones, as seen in these Suzanne Syz pearl earrings featuring blue sapphires encased in micro pearls, or the aptly named Picture Perfect pearl ring with an emerald surrounded by ropes of micro pearls.
We'll finish off with a piece that, in my mind, perfectly demonstrates the juxtaposition between the traditional white pearl and bold, innovative jewellery design. Celebrated for their delicate colour and perfect roundness, Akoya pearls are synonymous with the classic string of pearls hidden away in your grandmother's jewellery box. In this pearl ring by Tasaki, however, they are poised on a double gold band with jagged edges in a jewel that walks a delicious tightrope between elegant and cutting-edge.
And perhaps that is key to the appeal of this new pearl jewellery – it taps into the rebel within us by teaming a gem so rooted in tradition with a design aesthetic that is anything but.
---
The Jewellery Editor
June 27, 2015
New season turquoise jewellery showcases the many hues of this ancient gemstone
By Rachel Garrahan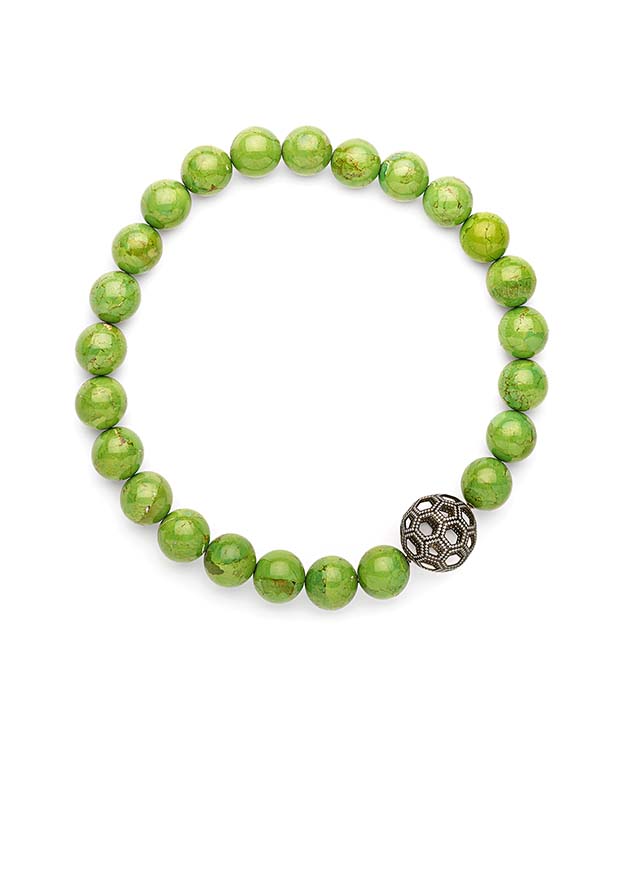 Beyond traditional vivid blue, turquoise comes in a surprising range of shades, from the palest robin's egg blue to unexpected lime green.
The vogue for turquoise jewelry was confirmed not only at the Couture Show Las Vegas, but also at this year's Academy Awards when Cate Blanchett wowed the crowds in a spectacular Tiffany jewelry turquoise bib. One of the world's most ancient gems, turquoise is available in a wide range of shades from the palest robin's egg blue to unexpected lime green.
Dive into the blue with more turquoise jewelry here
Selim Mouzannar's Sunset collection is inspired by the magical moment of sundown in his hometown of Beirut. He then went to Iran, one of the world's most revered homes of turquoise, to select the gem in beautifully intense shades of green and teal to create his Art Deco-style cuff, which is elegant and playful in equal measure. Imagine the sun setting on the Mediterranean as you turn over the outer diamond inlaid semi-circle that surrounds the turquoise sun.
Read more about Art Deco style jewelry at the Couture Show here
Turquoise, a copper aluminum phosphate formed in hot, dry places, including the American South West, the Middle East and Mexico, takes on a distinct green hue where there are significant levels of iron. Suzanne Syz is another lover of this rare shade. The Swiss jeweler who is renowned for her love of color and joie de vivre combines both in her That's Amore necklace, formed of 24 turquoise beads and a titanium globe, faceted like a precious football and set with more than 700 diamonds.
Whatever you choose to pair this precious gem with, turquoise jewelry is guaranteed to bring a smile to your face.
Here you'll find the original article
The Jewellery Editor
June 14th, 2015
A feast of one-of-a-kind jewellery at Masterpiece London
By Åse Anderson
Suzanne Syz "Sex on the Beach" ring in enamel and pink gold, set with a Fancy deep grayish yellowish green cushion-cut diamond.
The cheekily named "Sex on the Beach" ring is typical of Swiss designer Suzanne Syz, who always manages to strike the right balance between boldly unconventional and unashamedly beautiful. The enamel and rose gold ring has a dome-shaped top surrounded by white diamonds, set with a smattering of coloured diamonds in pink, yellow and green.