Katerina Perez
June 19, 2015
Masterpiece 2015
jewellery masterpieces that await you at the exhibition
By Katerina Perez
The name Masterpiece was rightfully chosen for the annual London Fair that will take place from June 25 to July 1. Extraordinary works of art will be gathered under the roof of a pavilion next to the Royal Hospital Chelsea. These works will include masterpieces of design, various antiques, unique furniture and a wide selection of high jewellery.
For the sixth year in a row, in the midst of London's auction season, Masterpiece London will open its doors to collectors and art lovers from all over the world. The exquisitely decorated salons will accommodate museum-quality exhibits, which visitors can view and buy.
My attention will undoubtedly be drawn to jewels. I believe it is a rare opportunity to see so many important pieces in terms of history, design and value in one place. I am looking forward to seeing the regulars as well as the jewellery legends like Van Cleef & Arpels and Fabergé, who will exhibit at this fair for the first time.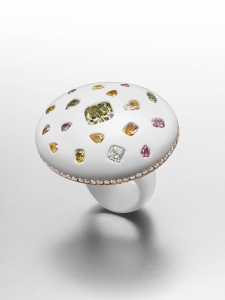 Suzanne Syz salon windows will showcase precious fireworks of coloured gemstones encased in them. Often mixing different colours in one jewel, Susan will display Sex on the Beach ring in pink gold and enamel with multi-coloured diamonds in hues of yellow, pink, orange and green.