LONDON — Terry de Gunzburg's jewelry collection is as original as she is.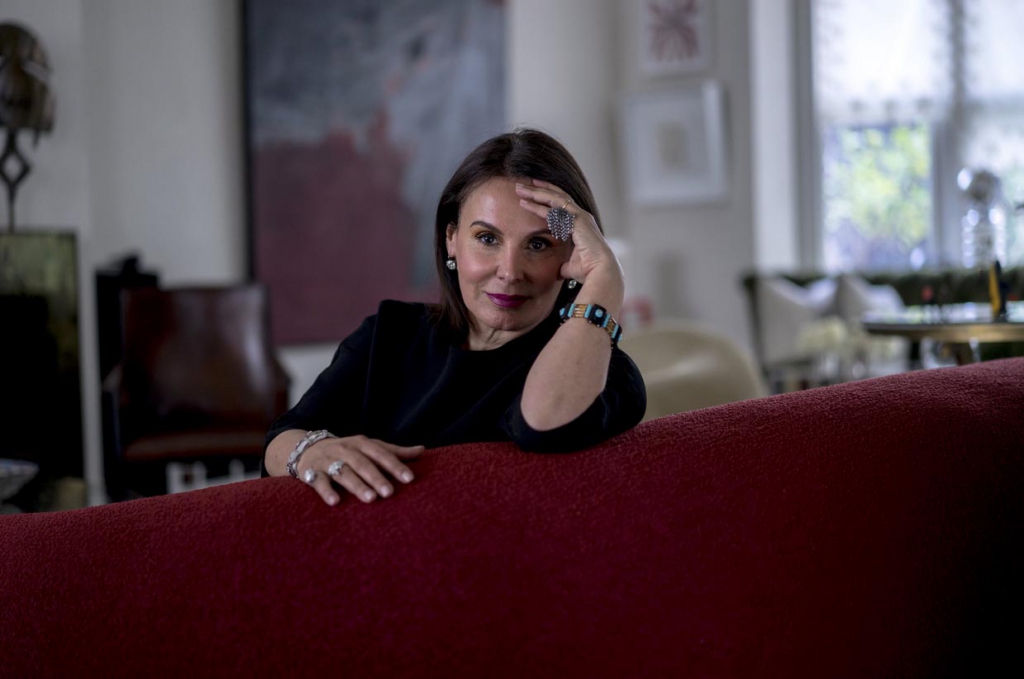 There are diamonds, emeralds, sapphires and rubies, but the creator of the By Terry makeup and beauty lines also has brooches of enameled cherries, earrings of agate Life Savers and titanium bangles.
Pieces from great names such as Cartier, Bulgari, Codognato, Tiffany — and a pair of ruby and diamond chandelier earrings believed to have belonged to Catherine II of Russia — are complemented by bespoke contemporary compositions from the Swiss artist Suzanne Syz; the New Zealand-born, London-based Jessica McCormack; the British designer Solange Azagury-Partridge; James de Givenchy of Taffin in New York; and Elie Top in Paris.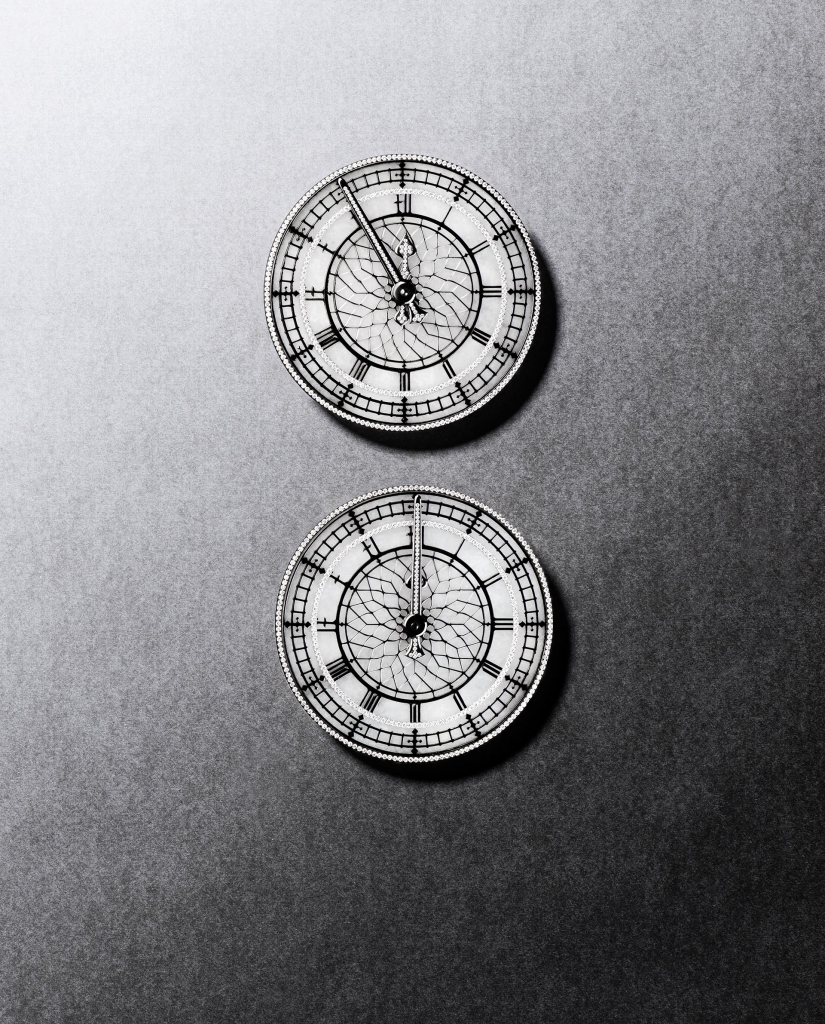 "The collection is not me, it's Jean," Ms. de Gunzburg said of her husband, a research scientist who grew up in Right Bank Paris, his family part of a European banking dynasty.
"He adores jewelry and antique things from his family, like this diamond brooch in the shape of a flower with curving stem and leaves," she said, indicating one of the pieces she had laid on her dining room table under the glimmer of an 18th-century Venetian chandelier.
Ms. de Gunzburg's jewelry really is just another intriguing element in a creative life. In 1978, she left her medical studies behind to train in beauty with the renowned Carita sisters in Paris and became a makeup artist in demand for fashion photo shoots. Then she moved into the creative nucleus around Yves Saint Laurent. As creative director of YSL Beauty from 1985 to 2000, Ms. de Gunzburg introduced a pen-like highlighter "Touche Éclat," still a YSL best seller.
Today, she still directs her signature line, introduced in 1998, and with her husband has chosen the array of modern and contemporary art — including Picasso, Modigliani, Francis Bacon, Anselm Kiefer — that lines the walls of their London townhouse. (Its "haut bohemian" décor is the result of her work with the French decorator Jacques Grange, Ms. de Gunzburg said.)
During an interview there one early spring afternoon, dressed in Prada black slacks and sweater, pepped up with gold Prada espadrilles, she said she was happy to admit to being 59. But who wouldn't look forward to birthdays, when, like anniversaries, Valentine's Day and even the advent of summer, the occasion always brings a gift from her husband.
"I like surprises," she said, describing how he proposed in the middle of the Place de la Concorde. "He stopped the car and caused a monster traffic jam," she recalled with a laugh.
Brushed gold spiral pendant earrings by Man Ray, similar to those worn in a 1968 Man Ray photo of the French actress Catherine Deneuve, were one birthday present. "I wore them to a Gagosian dinner to celebrate a Picasso exhibition in London," she said.
The unusual "Big Ben" earrings by Ms. Syz were another. Their design, a composition of white jade discs, diamonds, white gold and titanium, echoes the clock face at the Houses of Parliament in London. Ms. de Gunzburg wore them, paired with a vintage YSL couture tuxedo, to a black tie dinner at Buckingham Palace to celebrate Prince Charles's 60th birthday.
Her style
The secret to wearing such statement pieces, she said, "is that my ensembles are always extremely simple. That's my style."
What she called her "everyday jewelry" includes a 1925 Cartier platinum and white diamond bracelet with small round-cut and baguette diamonds and tiny sapphires and a 1920 Cartier diamond and platinum watch that she wears as a bracelet because "none of my watches work," she said with a smile.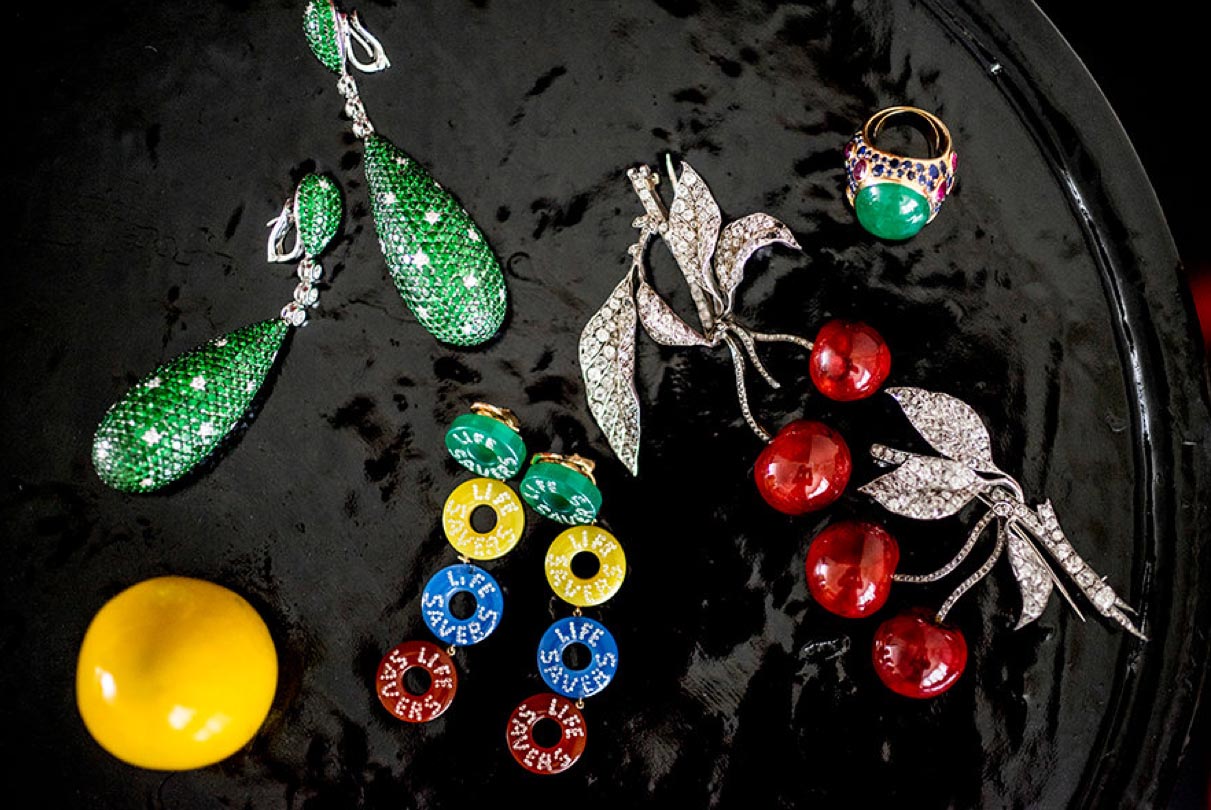 An old-mine, cushion-cut diamond, with a contemporary white gold mounting with diamonds by Ms. Syz, shone on the little finger of Ms. de Gunzburg's right hand. And her earrings were more old-mine diamonds from the turn of the century that Jessica McCormack, whose Mayfair boutique is a favorite, had set in oxidized sterling silver and 18-karat yellow gold.
Ms. de Gunzburg pointed out other favorite pieces to guests: Ms. Azagury-Partridge's "Belly Dance" ring, made of tiny diamonds on a fringe of blackened white gold, and what she calls "my lucky charm," Ms. McCormack's "New York" ring, which uses French-cut, bullet-shaped baguette diamonds to evoke Manhattan skyscrapers.
She also cited the ruby pavé rose-shaped earrings edged in diamonds, created by the Italian-born, Geneva-based jeweler Michele della Valle, which her husband produced one Valentine's Day as the couple was about to leave for dinner. "My husband told me, 'I'm not sure the jewelry you're wearing goes with your outfit' and slipped the earrings into my hand instead of a bouquet of roses," Ms. de Gunzburg recounted. "He never gives me jewelry in a box."
Then there was a Christmas present: a Cartier tutti-frutti bracelet with a mosaic of sapphires and baguette diamonds with tiny emerald and ruby holly motifs. And when she went to bed that night, he had placed on her pillow a pair of Cartier tutti-frutti sapphire, diamond, ruby and emerald platinum chandelier earrings.
Explaining the attraction
"I love the emotional aspect of jewelry, the story, the intention and the artistic imagination behind a piece," she said. "I never collect jewelry just for the stone, or the notion of how much it is worth."
As an example, her collection includes such artists' pieces as Lucio Fontana's "Venice Mystery" bangles of black gold and diamonds and a much-prized Niki de Saint Phalle enamel and gold heart pendant, a thank-you gift from the Paris gallery owner Pierre Passebon, a close friend. (Ms. de Gunzburg gave a dinner to celebrate his Chevalier des Arts et Lettres distinction.)
"Her jewelry collection is like their art collection," Mr. Passebon emphasized. "There is the same taste for high quality and for artists. That is why she likes the work of Suzanne Syz, an art collector like herself, who does artistic jewelry using haute joaillerie stones."
Ms. Syz's whimsical Life Savers earrings, agates in yellow, green and blue and two in coral for Ms. de Gunzburg, combine costume jewelry pizzazz with real stones. When the de Gunzburgs asked her to create a setting for a pear-shaped diamond, the artist set the stone off-center in a looping white-gold band of tiny diamonds. "I wanted the result to be funky and fun," Ms. Syz said.
One of Ms. de Gunzburg's most personal pieces is a pavé emerald and diamond gold pendant from the 1970s that was a gift from her grandmother. Their shared love of jewelry reflects an affinity that often seems to skip a generation.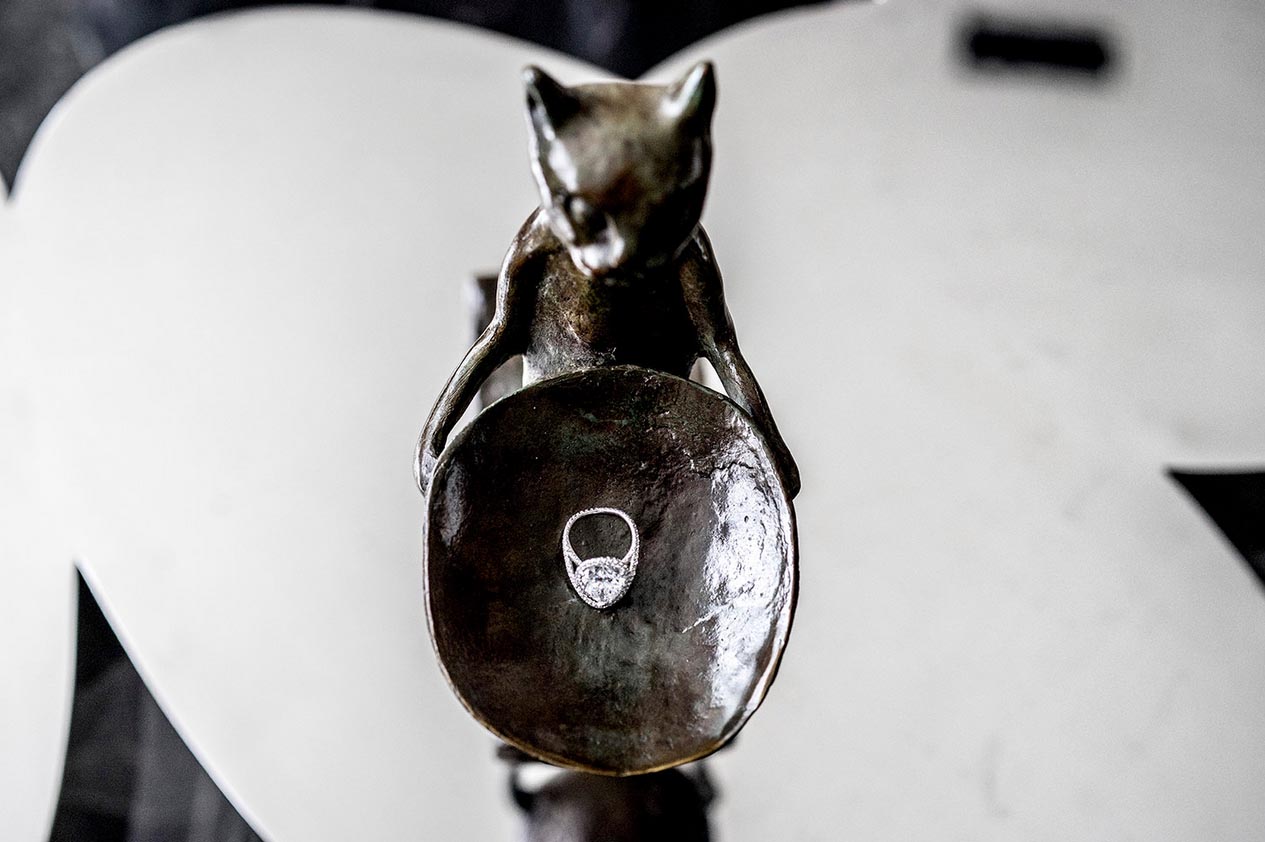 "My mother wasn't interested," Ms. de Gunzburg said. "My daughters don't care, but Elsa, almost 6, and Victoria, 2, love to dress up and play with my collection." The proud grandmother said the 2-year-old loves everything in gold, so her favorites include a Bulgari jeweled chain and her Lalaounis and Zolotas bracelets. Elsa, however, already has her eye on the Syz diamond ring her grandmother wears all the time.
"It will be yours when you grow up, I told her," said Ms. de Gunzburg, who took an iPhone photo as proof of the eventual inheritance. "Now when she sees it, she says, 'That's my ring."'
–
A version of this special report appears in print on May 14, 2015, in The International New York Times.